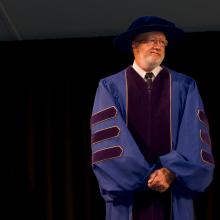 Bob Skene
Honorary Degree
Fall 2008 Convocation
Bob Skene has had a distinguished business career paired with an active role serving the community. He has lived in Victoria since 1979 after moving to Vancouver Island from Ottawa where he was chief operating officer at Computel Systems Ltd. for 10 years.
From 2000-2007, Skene was a member of the Royal Roads University Board of Governors and later became Chancellor and Chairman of the Board. He also volunteered to serve as acting president of the university from April 2006 until April 2007.
Skene was senior vice-president, business and development and chief financial officer with WCG International Ltd. from 2000 – 2005 and, for 10 years prior to that, chief executive officer at the Vancouver Island Advanced Technology Centre (VIATeC). From 1984 to 1990, he was chairman, president and CEO for HTS Hi-Tech Systems Ltd.
A chartered accountant, Skene also holds a Bachelor of Commerce from the University of British Columbia. He was president of the Greater Victoria Chamber of Commerce in 1989 and served as chair of the Victoria Airport Authority's audit and finance committee for four years. Skene spent four years as treasurer and chair of the Greater Victoria Hospital Society's Operations Committee and has served on numerous other boards of directors in a leadership role including the Silver Threads Society, the Association for Community Living and the Camosun Gyro Club.
Bob Skene has been happily married to Judy for 45 years and has three children and eight grandchildren.