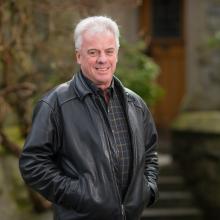 Bob McDonald, OC
Honorary Degree
Spring 2017 Convocation
Bob McDonald is a broadcaster and science journalist who has been inspiring children and adults alike with his enthusiasm for science for more than 40 years.
For the past 25 years, McDonald has hosted CBC Radio's Quirks & Quarks, the award-winning science program heard by more than half a million people each week, which presents the people behind the latest discoveries in the physical and natural sciences.
McDonald is also science correspondent for CBC TV's The National and former host of the children's science series Head's Up and Wonderstruck. He has written and hosted numerous television documentaries and more than 100 educational videos.
Science has been McDonald's fascination since his childhood during the Space Age. He found a way to fuse his natural storytelling abilities with his love of all things scientific in 1973, when he joined the staff of the Ontario Science Centre. He often appeared on television programs on behalf of the museum, using commonplace items such as coffee cups and paper balls to explain scientific phenomena to the public.
Those appearances eventually led him to take up science journalism and broadcasting full-time. McDonald's work on children's television has inspired at least two generations of scientists – and science journalists – in Canada and beyond.
As a writer, McDonald has authored four bestselling science books and contributed to numerous textbooks, magazines and newspapers. His latest book is Canadian Space Walkers: Hadfield, MacLean and Williams Remember the Ultimate High Adventure, released in 2015.
McDonald moved to Victoria in 2011. An avid sailor, he can often be found navigating his sailboat on the Salish Sea.
He is an Officer of the Order of Canada and a recipient of the Queen's Jubilee Medal. MacDonald holds the Michael Smith Award from the Natural Sciences and Engineering Research Council, the Sir Sanford Fleming Medal from the Royal Canadian Institute and the McNeil Medal from The Royal Society of Canada. He also won a Gemini Award in 2008 for "Best Host in a Pre-School, Children's or Youth Program or Series" for his work on Head's Up. McDonald now holds 10 honorary doctorates from Canadian universities.
His most interstellar honour came in 2014, when the International Astronomical Union officially named asteroid 332324 Bobmcdonald in his honour. His namesake orbits the sun between Mars and Jupiter.