Related program area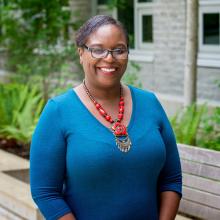 I am now more empowered to manage teams successfully.
"As a mother of six, a wife, a grandmother, a full-time employee, and a part-time business owner, Royal Roads University was ideal for my busy lifestyle. I assumed obtaining a Masters degree would not happen until my children were all grown, and that returning to school was not achievable with my career commitments. However, a colleague at work told me about the flexible and blended programs RRU had to offer, and the rest is now history!
My overall experience has been exceptional. As a student located in Edmonton, Alberta, I felt connected and thoroughly supported by the University. Over the two years, I have learned much, experienced lots, and grown as an individual and professional. I have never felt more grounded in my abilities due to the formal education I received.
The MAHEAL program allows me to connect my actions as a manager to leadership theories, systems thinking and other frameworks. Grounded in the latest practices and fundamentals from the field of Higher Educational Leadership and Administration, I feel more empowered to manage teams successfully.
This program has ignited, fueled, and energized my abilities and capabilities as a manager, and as a leader."