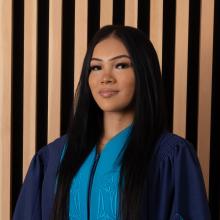 Autumn Peltier
Honorary Degree
Spring 2022 Convocation
Autumn Peltier is the Chief Water Commissioner for the Anishinabek Nation and an environmental advocate whose courage and journey for justice have made waves.
Born in 2004, she was raised near Lake Huron by her family, who taught her the importance of water advocacy early on. When she was just eight years old, she noticed toxic drinking water signage at a ceremony on Serpent River First Nation territory in Ontario. She learned of a long-standing boil water advisory—and this was the catalyst for her quest to restore access to clean water for Indigenous people.
Peltier captivated the world's attention at the age of 12 when she admonished Prime Minister Justin Trudeau, at an Assembly of First Nations event, for the choices he had made for her people. He made her a promise: "I will protect the water." It's a promise for which she holds him accountable.
At 13, Peltier spoke about water protection to world leaders at the United Nations General Assembly. She also received the Lieutenant Governor's Ontario Heritage Award for Excellence in Conservation in 2016 and the Governor General of Canada's Sovereign's Medal for Volunteers in 2017. She was invited to speak at the United Nations Secretary-General's Climate Action Summit in New York in 2018 and 2019, and she was nominated for the International Children's Peace Prize four times. In 2020, Autumn's documentary, The Water Walker, which follows her struggle and journey to New York City to address the UN, was purchased up by HBO Canada.
In 2021 Autumn received the RevolutionHER Community Vision Youth Award and the Racial Justice Awards Environment Award. In 2022 she was featured on the cover of Maclean's magazine's Power List issue and was a featured voice for Team Canada's Winter Olympic team in Beijing.
While Peltier's work has garnered many awards and accolades in media and politics, her path has not been easy. Facing stereotypes, racism and people who underestimate her because of her age, Peltier presses on, inspired by the words of her aunt Josephine Mandamin, who was known as "Grandmother Water Walker." Peltier speaks out against environmental racism and represents 39 First Nations in Ontario in her work as Water Commissioner.
Although we hear Peltier's powerful words worldwide, her community continues to recognize her leadership. Her advocacy as a teen has made adults pay attention to the water crisis Indigenous people face. Peltier inspires a new generation of youth by modelling how a young First Nations woman can make a difference when they become passionate about a cause—like Peltier's cause to protect water.