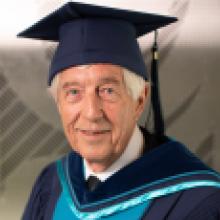 Arthur Daniel Miller
Honorary Degree
Spring 2021 Convocation
Arthur Daniel "Dan" Miller served as the 32nd Premier of British Columbia. First elected to the BC legislature for the New Democratic Party in 1986, he served British Columbians as an elected official for 14 years.
Miller held the role of Deputy Premier, and was a Minister in many ministries – Forests, Municipal Affairs, Energy and Mines, and Employment and Investment. As Minister of Skills, Training and Labour (now Advanced Education and Skills Training), he was instrumental in the creation of Royal Roads University.
In 1995, Miller introduced the Royal Roads University Act, which created the university "to provide continuing education in response to the needs of the local community, and to maintain teaching excellence and research activities that support the university's programs in response to the labour market needs of British Columbians." The wording of the act has shaped Royal Roads' mission from its first class to the present day.
Miller served as premier and interim party leader from August 1999 to February 2000, holding the position until the BC NDP elected new leader Ujjal Dosanjh. During Miller's term, his chief of staff was John Horgan, eventually elected premier of BC in 2017; the premier considers Miller a mentor.
Miller has also held positions in provincial pipeline and forestry companies, and worked as an advisor for the government of British Columbia on offshore oil and gas development and forestry practices.
Born in Port Alice, BC, Miller worked as a pulp mill millwright and served as a councillor for the city of Prince Rupert before entering provincial politics.  Upon retirement in 2001, in addition to consulting, Mr. Miller served on the boards of BC Ferries, Technical Safety BC, and Geoscience BC.  Now fully retired, he resides in Victoria and continues to try to improve his golf game, reads, and helps his close friend in her garden.