Related program area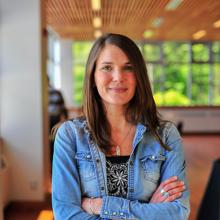 RRU has been, by far, the best university I have ever attended.
"I came to Royal Roads University as a mature student on flexible admission – meaning that even though I didn't have the academic prerequisites to enter the BA in Professional Communication, my life, work and previous educational experiences all became qualifying factors in the admission process. And while my original thinking in applying for the BA in Profession Communication, an accelerated one-year program, was to complete my degree as quickly as possible, I now find myself with the unexpected desire to continue my RRU journey and take a master's degree next fall.
RRU has been, by far, the best university I have ever attended. In comparison to other large, impersonal campuses, the ones where 600 students are packed into a single lecture hall, RRU has a certain intimacy. This is a place where professors ask what's going on in your life, where you get to know your classmates on a personal level and where gardeners are happy to tell you what plants flourish during springtime. In short: at larger schools you're a number; here, you're a name."