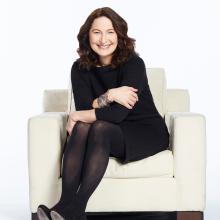 Anna Maria Tremonti
Honorary Degree
Spring 2018 Convocation
Anna Maria Tremonti is an award-winning journalist and host of CBC Radio's current affairs program, The Current. She is the familiar and engaging voice behind Canada's most listened-to radio program.
Tremonti launched a journalism career at the University of Windsor's student newspaper and radio station. She later took private broadcasting contracts in New Glasgow, NS and Toronto before serving with the CBC in Fredericton, Halifax, Edmonton, Ottawa and Toronto. She went on to work as a CBC correspondent in Europe, and was the chief CBC correspondent in the Middle East for several years. Her assignments included covering the war in Bosnia and the Israeli-Palestinian conflict.
Tremonti spent 19 years with CBC Television, including as host of CBC's investigative documentary program, The Fifth Estate. She returned to radio in 2002 to launch what would become the tremendously popular show, The Current.
Best known as a fearless interviewer who seeks out stories that matter, Tremonti engages audiences in difficult and complex stories through solid research and diverse opinions. She is a sought-out leader and mentor in her field, particularly in the area of journalistic ethics.
Tremonti is dedicated to revealing the stories behind the headlines. Among her countless remarkable interviews have been those with Maher Arar, the Syrian-born Canadian whose detention as a political prisoner in Syria resulted in a public inquiry into Canada's role in his deportation, and Nobel Peace Prize laureate Malala Yousafzai, who was shot in the head by a Taliban gunman for advocating girls' education.
Tremonti won two Gemini awards for her work as a senior reporter with The National and a Gracie Award recognizing her work as host of The Fifth Estate. In 1998, she was awarded an Outstanding Achievement Award from Women in Film and Television - Toronto.
Under Tremonti's direction, The Current has won numerous accolades from the New York Festivals Radio Awards, including Gold for Best News Documentary (2013), Silver for Best Newsmagazine (2013), Bronze for Best Talk Show Host (2008, 2014 and 2015) and Gold for Best Talk Special: Interview (2009). In 2012, The Current was recognized with an Amnesty International Canada Media Award for providing Canadians with vital information on human rights issues. In 2012, The Current won the Canadian Journalism Foundation's Excellence in Journalism Award (Large Media Category) and was a finalist for that top honour in 2013.
Tremonti holds a Bachelor of Arts in Communications from the University of Windsor (1978). She received an honorary doctorate from the University of Windsor in 2001 and from Carleton University in 2007 to recognize her contributions to Canadian journalism.