Related program area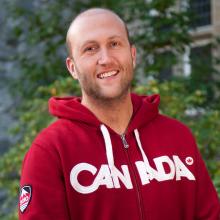 RRU gives you the opportunity to accomplish your goals, turning your career dreams into a reality.
"I was first drawn to the Master of Global Management program at RRU after discovering how well it was suited towards working professionals like myself. RRU's MGM has provided me with a wealth of resources, one-of-a-kind mentoring experiences and networking opportunities. RRU's learning method, an educational experience unlike any I have come across thus far, provided me with necessary skills, equipped me with in-depth problem-solving tools and enabled me to excel in business as I never thought possible.
The university has state-of-the-art facilities, including full media breakout rooms, multiple cafeterias, and lounging areas with couches for a home-away-from-home atmosphere. If not for the beautiful city, the weather or the state-of-the-art campus and learning environment, come to RRU for the people and the lifelong connections you'll make. Yes, there are other options for similar master's degree programs, but this is a school that will prepare you for so much more. RRU gives you the opportunity to accomplish your goals, turning your career dreams into a reality."