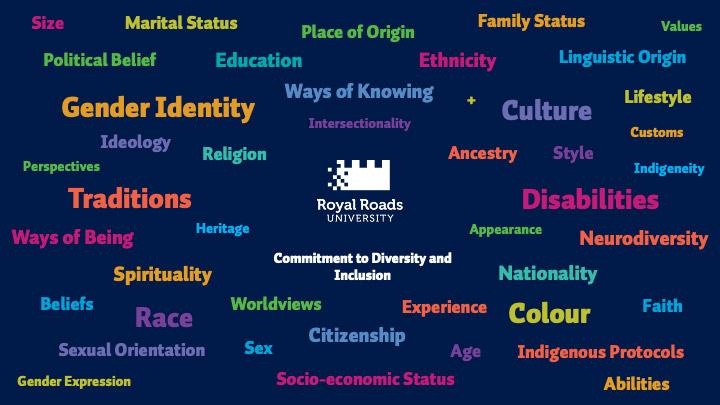 The diversity of our common humanity enriches our communities. It expands our learning, teaching and research. Diversity challenges us, strengthens our creativity and improves our adaptability.  
We celebrate the intersectionality of our identities, experiences and perspectives. We want Royal Roads to be a community where we relate to each other and the natural world, recognize our interdependence and can find a sense of belonging.   
We invite you to join us in building a safe and courageous university community where we uphold dignity, celebrate our common humanity and learn from different ways of knowing and being in the world.  
 To achieve this, we will:   
Facilitate learning, research and work environments that reflect and benefit from our diversity

Encourage critical thought and dialogue that helps us to challenge existing structures and worldviews and enact justice

Engage in shared leadership with open, inclusive, accountable, respectful and equitable conditions where ideas and people can flourish
To fulfil these commitments, we will support each other, especially members of equity-deserving groups. We are all in different places along our journeys and this work is difficult, complex and ongoing. Together we will cultivate a whole, thriving community greater than the sum of its parts.   
This statement is one of principles and values and is intended to be the driving force and a reference point for equity, diversity and inclusion informed action at RRU. This is a living statement and will be reviewed and amended on a regular basis. To find out more about EDI informed actions at RRU, go to: www.royalroads.ca/EDI 
Diversity Action Group
Visit the Diversity Action Group page for more information or to contact us about diversity at Royal Roads.