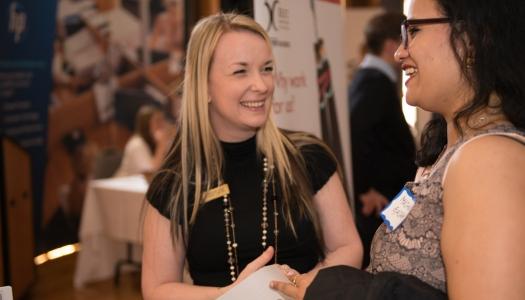 Royal Roads programs frequently include an internship or practicum, giving students the chance to integrate classroom learning with work experience.
Employers can host our students for their internship or practicum. They'll do great work for you and help move projects forward while they're honing their skills.
To work with Royal Roads students on shorter-term projects, view our consulting and research opportunities.
Our students are ready to work
Royal Roads students can complete their internship at the end of their program. That means host employers will be mentoring students who are ready to enter the workforce.
Most internships are the final requirement before graduating. If the student is a good fit with your organization, you can hire them to continue their good work.
Ready to recruit?
If you'd like to recruit a Royal Roads student for your organization, you can submit your posting to our career board or contact our Career Learning and Development team.
Learn more about paying internship students and insurance coverage.
Programs with students who are seeking work opportunities
Have a look at which programs are seeking employers and what time of year they take place.
| School and program | Type and length of experience | Start date(s) |
| --- | --- | --- |
| Tourism and Hospitality | | |
| | Internship 3-4 months ≥420 hours | May |
| | Internship 3-4 months ≥420 hours | May |
| | Internship 3-6 months ≥420 hours | April |
| Business | | |
| | Internship 3-6 months ≥420 hours | February June October |
| Humanitarian Studies | | |
| | Practicum 75-100 hours | May-August (flexible start) |
| | Internship 3-5 months ≥420 hours | May/June (flexible start) |
| | Internship 3-5 months ≥420 hours | May/June (flexible start) |
| | Internship 3-5 months ≥420 hours | May/June (flexible start) |
| | Internship 3-5 months ≥420 hours | May/June (flexible start) |
| Communication & Culture | | |
| | Practicum 75-100 hours | June-August (flexible start) |
| | Internship 3-4 months ≥420 hours | July |
| Environment and Sustainability | | |
| | Practicum 75 hours | May-September (flexible start) |
| | Practicum 75 hours | May-September (flexible start) |
| | Practicum 75 hours | September |
| | Practicum 75 hours | September |
| Interdisciplinary Studies | | |
| | Internship 3-6 months ≥420 hours | Varies |