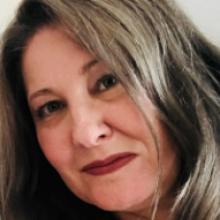 Krista Hiddema
Student
Doctor of Social Sciences
Krista Hiddema is a social justice activist with over thirty years of experience in both the profit and non-profit sectors and believes that all oppression is interconnected. As a committed vegan, Krista's specific interests include the oppression of farmed animals and those who fight to protect them. Krista is the Executive Director of For The Greater Good where she consults with animal protection organizations across North America on matters of organizational development and governance and is also a blogger.
In addition to holding five degrees and designations in human resources, including a master's degree in organizational development, she is pursuing her doctorate focused on the employment experiences of animal rights activists in Canada and the United States. Krista first joined the Animal Advocacy Movement as the VP of Mercy For Animals in Canada where she led twelve undercover investigations into factory farms and slaughterhouses. Krista also served as the President of the Board for Happily Ever Esther Farm Sanctuary, home of Esther the Wonder Pig, for over five years, also now serves on several other Boards including One Protest, The Rancher Advocacy Program, Egg-Truth, and Dairy-Truth. Krista is also a member of Womxn Funders in Animal Rights, is a peer reviewer for the Journal for Critical Animal Studies, and is an Animals & Society Research Scholar.
Prior to joining the Movement, Krista founded a boutique employment and labour law firm in Toronto where she consulted to employers across Canada and the U.S. for a decade, and before that she spent fifteen years in human resources including as the Vice President of HR for one of the largest software companies in the world.