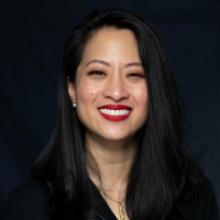 Lily Chong
Student-elected member
Board of Governors
Lily Chong is the student-elected member of the Board of Governors, serving a term from October 1st, 2022 – September 30, 2023.

As a 2nd-year student in the Master of Arts in Leadership program, Chong (she/her) resides on the unceded lands of the Coast Salish people on the Musqueam, Tsleil-Waututh, Squamish, and Sto:lo nations. Her parents are of Chinese descent and immigrated with her two older sisters to Turtle Island in 1982 from Brunei, where her mother's side of the family found refuge after WWII. Chong and her younger sister were born shortly after, on Treaty 6 Territory. Sharing her family's ancestry helps her to connect to the history of colonization, and how it played a role in how her ancestors were displaced from their original homelands, and how they arrived as settlers and uninvited guests to Turtle Island.
 
As a settler, Chong recognizes that although the history that took place before her cannot be changed, it is her responsibility to learn and unlearn about the Truth around the history and ongoing impact of colonization towards Indigenous peoples, people of colour, and their intersectionality, and to take active steps in reconciliation—whether it be through the self, or through the communities in which she is a part of. 

Chong has over 10 years of experience working with both appointed and elected boards in the public sector and was a team leader in her organization's first-ever Inclusion, Diversity, Equity, and Action (IDEA) Committee in 2021. She is also a member of the Board of Directors at her housing co-operative in Downtown Vancouver. She holds a Bachelor of Science from the University of Alberta, an ICF Coaching Certificate from Rhodes Wellness College. She is a life-long learner and is always open to feedback.

In her free time, Chong sings in a community choir, plays guitar, volunteers with Big Sisters of Lower Mainland, and enjoys hikes with her 1-year-old puppy named Hazel.