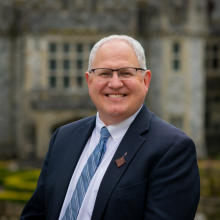 Kevin Brewster
Board of Governors appointee
Board of Governors
Kevin Brewster has had a 30-year career in the BC public sector for the provincial and regional governments. Prior to joining the public sector in 1993, he worked in private sector architectural consulting for five years.  From 2014 to early 2022, he was the Assistant Deputy Minister and Executive Financial Officer for the BC Ministry of Advanced Education, Skills and Training.
Over the course of his career his primary focus has been in the development of public sector infrastructure (e.g., post-secondary facilities, K-12 schools, hospitals and care homes).  While at the BC Ministry of Health, he led the expansion and renewal of a dozen major BC hospital projects financed as public private partnerships. More recently he has led BC's 5,000 student housing bed expansion initiative and was involved in the financing and development of the Sherman Jen Building and the Dogwood Auditorium capital projects.
Brewster holds a diploma in building technology from the BC Institute of Technology; a Bachelor of Architecture from the University of Oregon; and an MBA from the Manchester Business School in the United Kingdom.