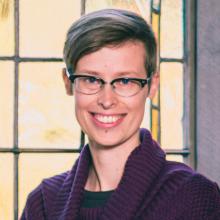 Dranna Andrews-Brown
Employee-elected member
Board of Governors
Dranna Andrews-Brown is the staff-elected member of the Board of Governors, serving a term from April 1, 2020 to March 31, 2023.
Andrews-Brown has been a staff member at Royal Roads for almost 10 years. She is currently the Manager, Student Engagement and previously held the role of Coordinator, Student Services. In addition to her work in Student Engagement, she serves as a member of the Diversity Action Group, RRU Proud, and the Sexual Violence and Misconduct Advisory Committee.
In addition to her work at Royal Roads University, Andrews-Brown is also a doctoral candidate at the University of Calgary and has recently served as a board member of the Canadian Society for the Study of Higher Education. Andrews-Brown holds a BSc in Psychology from the University of Alberta (2007) and an MA in Educational Leadership and Administration (specialization in Student Affairs) from University of the Pacific (2010).